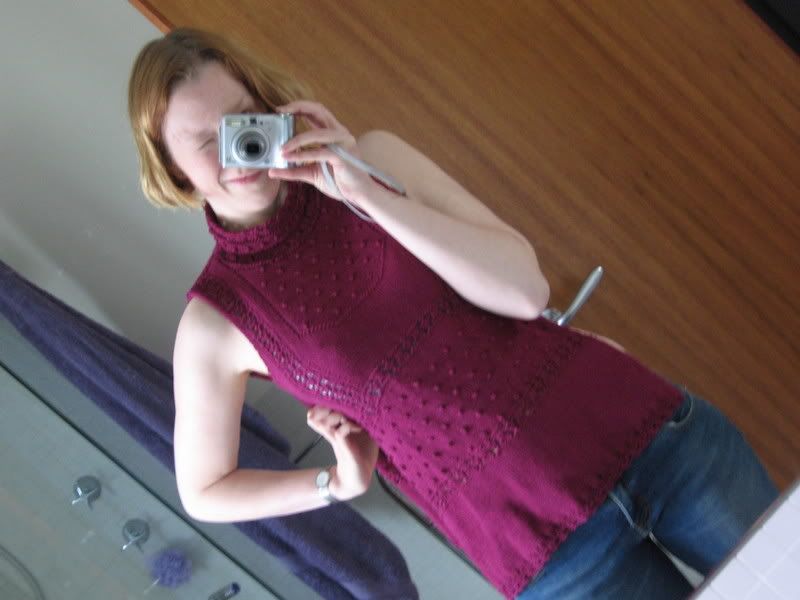 i put the neck on. what a hassle. i had to frog and reknit it because.... well, i'm tired and it's technical. something to do with purling through the back loop and the significance of not doing that. and i had to redo the shoulder seams because i have only ever knit raglans before and my seaming was truly dreadful.
my three needle bind off round the neck is quite an obvious seam. i don't know if it's supposed to invisible or not. but it looks neat, if obvious, so it's staying.
the sides aren't sewn up yet, which is why i am contorted in the photo. i was trying to hold the camera and the top to keep me modest-like.
the armholes are quite small, although i made them larger than the pattern called for, so i do not want the lace ruffle extending under my arms (yucky sensation. hate frilly stuff in my armpits). so i have to study the pattern carefully to make a nice lace edging that 'grows' out of the armscye. i don't want to just cast on less stitches, because that will leave a right angley-thing where the lace ends.
does ANY of this make sense? i am quite tired (thankyou, dresden dolls and your four and a half hour show that only ended because the venue was closing) and not so eloquent.
i did have the apparently genius idea last night of knitting a pillbox hat with veil and floral embellishment. still too tired to work out if this is in fact a good idea, or deluded brain-rambling... i would stiffen the actual hat with a cardboard...um... hat-shape that the knitted part would go over.