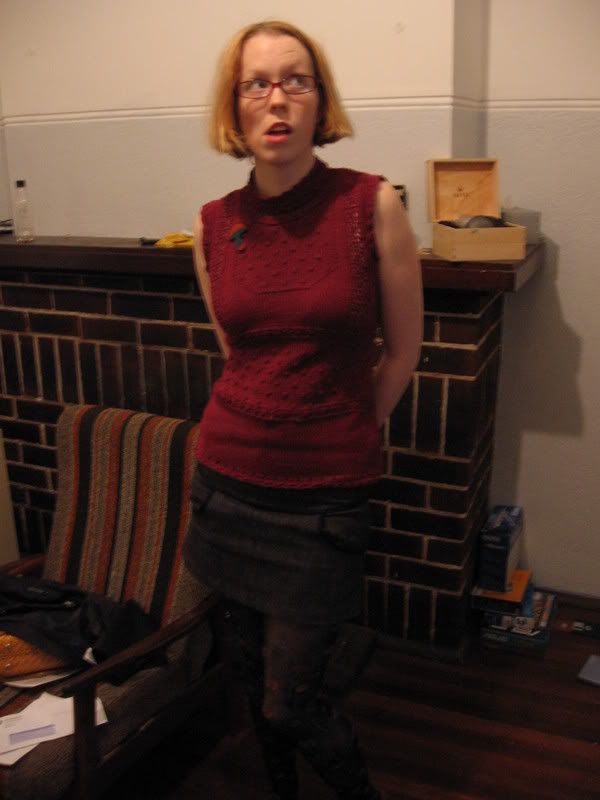 so the Vogue High Neck Lace Top is done (and i am posing in badly coloured boy's unit, in front the chair i found for free in a council verge rubbish pickup. it matches the couch). it's too big (the top, not the couch. the couch is very big, but that's great)! i am soooooo distressed. it really is a size 12, not 10. the waist is a good 4 inches too big. i'll still wear it to uni during warmer months, but it isn't really form-fitting enough to be an evening top. you can see where it's loose in the picture.
it is deliciously comfy though. thoroughly recommend debbie bliss' cathay as a sub for cotton/ silk in a pattern (it's a blend of the two, plus rayon).
and i love the colour. it makes it less victoriana, more quirky. though i do wish i had a delightfully tight high-waisted pencil-skirt to wear with it, rather than the mini.
Very glad i made the armholes larger than called for - they are still as high up as i would want them to cut. if i'd followed the pattern and added the lacy in the armpits i seriously doubt i could have jammed my arms through.
well, i wore it out to dinner at the subi hotel, and in the toilet queue told my friend maddy i made my top. she did the obligatory 'oohs', but the girls in front and behind me (who had probably had more to drink) went nuts! All 'Oh my god that's aMAzing! Do a little twirl so i can see it all!' One of them's favourite part was - wait for it - the plain maroon plastic buttons that do up the neck. Ah well, can't win 'em all.
Next up on the to do list (not quite in order):
- finish anatolia
- decide which of the new vogue knitting patterns to make
- BCB's mum's scarf
- my mum's lace birthday wrap
- a scarf for the housemate for xmas?
- maaaaybe something knit for the best friend for xmas? (we are both terrible at estimating each other's taste, we are like polar opposites; but although she has never worn the scarf i knit her out of $20-a-skein-pure-silk, she was so excited that i actually knit something for her that i'm willing to repeat the process).
- maybe knit another one of these tops, in my proper size? I'm pretty tempted you know. it'd be so quick to do, now that i know the pattern quirks. A month to six weeks, i think it'd take. plus a couple of days to do the sizing maths.