anatolia, anatolia, anatolia (just so people find this entry when they google) :)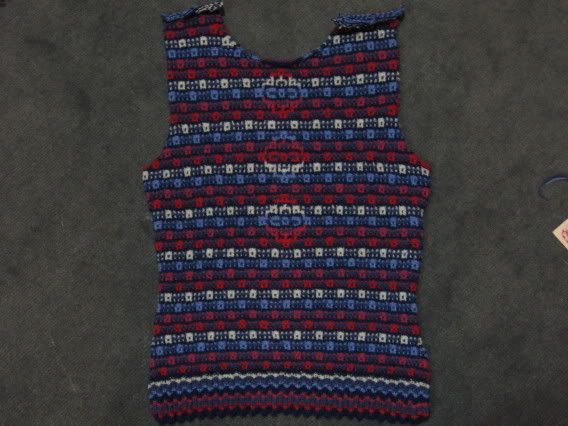 i finished the front of anatolia.
my significant other (Badly Coloured Boy, because that's what he's known by in my other blog; and he's known by that because he reminded a friend of badly drawn boy and he's colourblind) looked over at my precious knitting and said 'Ha! it has an alien face in it!'
'I beg your pardon? An ALIEN face?'
'Yeah! There! Where you messed up with the pattern' *points*
Ah. That would be one of the three geometric twisted very cool cross-shaped designs i carefully, painfully and certainly deliberately knitted in.
good to know that they look like a cockup to the untrained eye *sigh*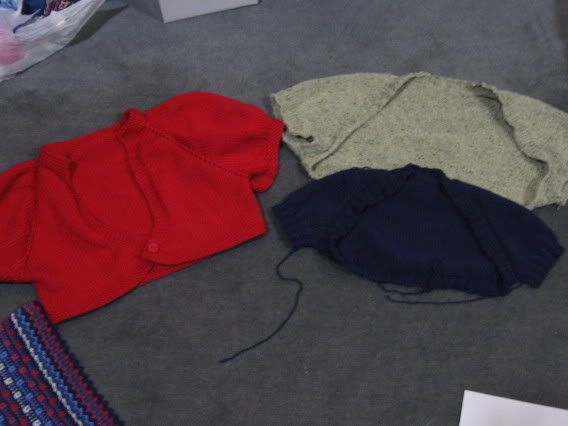 And here is a glampyre trio, one boobieholder and two one skein wonders. one of which i must have been drunk while knitting, because it certainly doesn't fit me. guess which one? two points if you guessed the navy blue patons cotton one.
i'd intended to embroider anchors on the front and a flaming heart with a dagger in on the back of it, like old-school tattoos, but there's no point if i can't wear it. not quite sure what to do with it. seems a waste to frog it.
the red is in some very soft superwash merino, and the green is the jo sharp silkroad aran tweed that i am attached to in the same way that some others here are to their kid silk.