i forgot to take photos of my Kool-Aid hanks until I'd wound the pink into a ball. Cleverly remembering kita's advice about toilet rolls and centre pull balls, i proceeded to wind around a toilet roll. Then thought 'hey! It's getting really fat in one direction. Think i might just wind in the other direction for a bit'. Yes. You can all see what I didn't until I was about halfway through the skein. There is a toilet roll trapped inside that pink ball of yarn. And it isn't centrepull either. I think i might end up reballing it though, as the yarn is noticeably stretched taut too.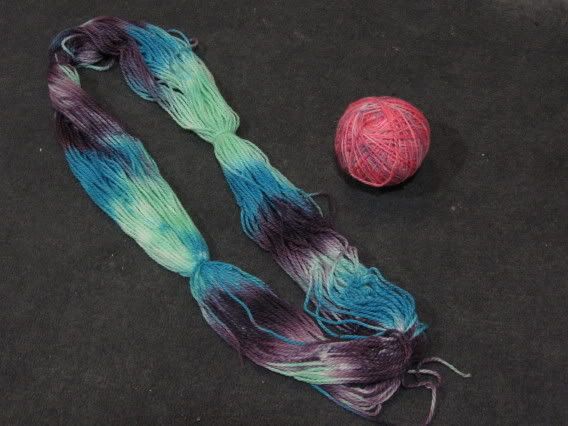 Now when I wound the pink ball, I stretched the yarn out over my knees. This was okay, but you have to pass the ball under your legs every now and then. Kind of a hassle. So I figured when i was winding the blue hank 'why not just leave it on the bed and wind from there?' Because this is what happens people: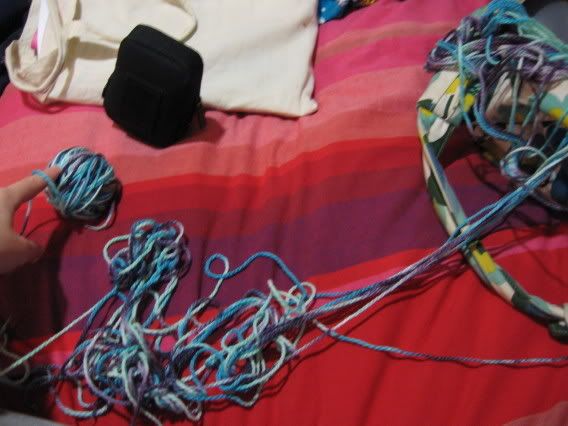 Never mind. I patiently untangled it all as penance for my sheer stupidity. And here are my cute little variegated yarns. That's purple in the blue ball, not black. It's my favourite. The colours bled in all kinds of pretty ways. Some of the mauve washed out in the pink ball, leaving these little shots of baby blue all through, but non that you can see in the picture. Very pretty. Though i still don't intend to wear the pink in any way. I'm think maybe of making one of those little felted kitties that i linked to out of it. and an ipod holder. and a toy rabbit, or a small coinpurse. or something.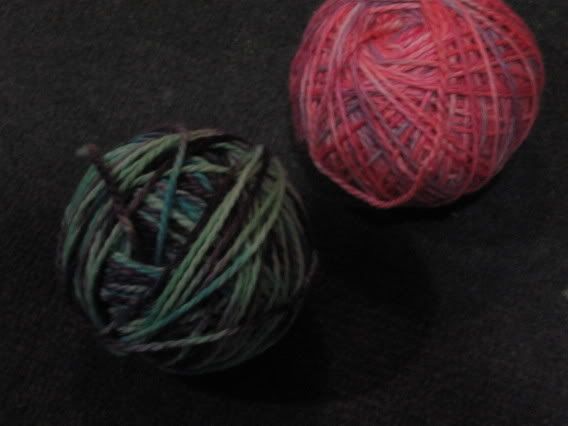 And just for yarnporn, my cathay arrived yesterday. It's pinker than i expected (a tiny bit pinker than in the photo) but still a very pretty colour. Nice and silky, will suit the pattern. It looks a bit prone to splitting, which makes me nervous considering all the lace, but isn't nearly as bad as some of the cottons I looked at. It is going in the stash-box until anatolia is finished. And next to it is my balled up (non-centre-pull - i tried, but i wound it too tight and it made cracking noises when i tried to do the centrepull thing. that was the fibres snapping...) sari silk. will be garter and stocking stitch on 5.5mm needles to make a scarf.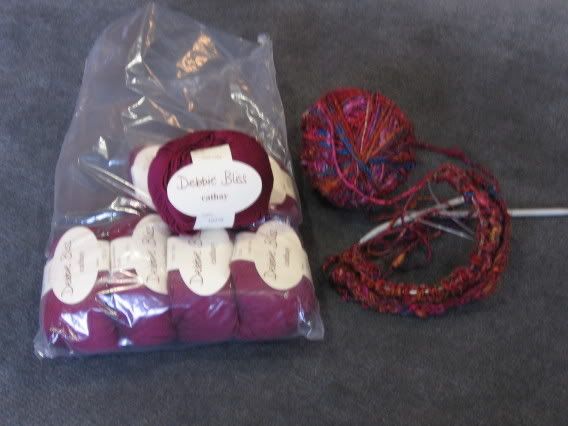 after the vogue top i really need to do a little stash reduction. badly coloured boy and i are coming to loggerheads over the amount of 'stuff' each will bring to our shared abode (when we get one). i point out that four hard drives and two monitors takes up more space than my stash, but i fear if i don't work on reducing my stash i won't be able to take that high moral ground for long.